Support in your community >
Henriette's Story >
Faces of Hope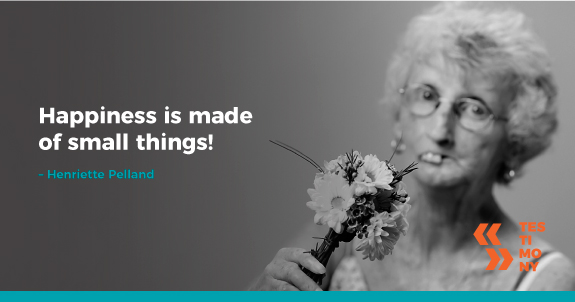 Happiness is in the small things!
You may know the following quote: "Happiness is made of little things." When we have a degenerative disease, that phrase makes even more sense in our minds. Since I was diagnosed with scleroderma, it's like I feel an urgency to live. The daily gestures that have become so difficult to perform remind me of the importance of living fully, intensely.
I may be sick, but I want to live! And nothing makes me more alive than when I laugh, when I share moments with family and friends. These small daily pleasures allows me to shake off pain. They remind me of who I am and who I have always been: an optimistic person who fears no challenge… almost. It would be wrong to say that I am not afraid, since the unknown is often scary. It would be wrong to say that I don't experience frustration when I have trouble doing my business, since it's frustrating to be reduced to helplessness. But after that, there are two choices: not to hope for anything in life or to realize that happiness is made of small things. The disease has brought me many bad feelings, but it makes me know a part of me that I did not know existed. I'm a lot stronger than I thought.
To a certain extent, I choose my condition. I decided to draw strength from within, to take every happiness that passes, to marvel at a sunset or the noise that the wind makes. We have to enjoy every moment of life, because we don't know what tomorrow will be. And the tomorrow I wish for is a tomorrow without scleroderma.