Research Group >
Dr. Jean-Luc Senécal – Biography >
Dr. Jean-Luc Senécal – Biography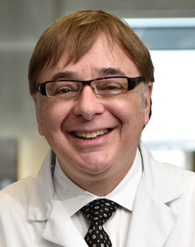 Jean-Luc Senécal, MD, FRCPC, is a rheumatologist and member of the CHUM's Rheumatology department. He holds the Scleroderma Research Chair at the University of Montreal.
Dr. Senécal specializes in the diagnosis and treatment of human systemic autoimmune diseases, such as scleroderma (systemic sclerosis), systemic lupus erythematosus and autoimmune myositis.
His fundamental research focuses on elucidating the pathophysiological mechanisms underlying these diseases and identifying new treatments.
Theme:
Immunopathogenesis and new therapeutic approaches to human systemic autoimmune diseases.
Research topics:
Identification, characterization and clinical significance of autoantibodies associated with human systemic autoimmune diseases: scleroderma, systemic lupus erythematosus (SLE) and autoimmune myositis.
Molecular mechanisms involved in the immunopathogenesis of these diseases.
Development of experimental models of scleroderma.
New therapies for scleroderma.