Research Group >
Dr. Marie Hudson Biography >
Dr. Marie Hudson Biography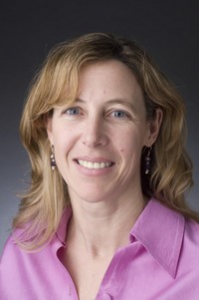 Dr. Marie Hudson is a rheumatologist, epidemiologist, and Assistant Professor in the Department of Medicine at McGill University. She is a physician-scientist and member of the Center for Clinical Epidemiology and Community Studies at the Jewish General Hospital. She is a fellow of the Royal College of Physicians of Canada and is funded as a New Investigator by the Canadian Institutes of Health Research (CIHR). 
Major Research Activities
Dr Hudson pursues research in systemic autoimmune rheumatic diseases. In particular, she is one of the founding members of the Canadian Scleroderma Research Group (CSRG), a CIHR-funded, multi-centre group of researchers that follows a cohort of over 1000 SSc patients across Canada. She has published landmark studies documenting the magnitude of impairment in health-related quality of life (HRQoL) with scleroderma. She is particularly interested in scleroderma lung disease, its natural history, its optimal treatment, and its impact on HRQoL. Dr Hudson is also involved in a number of studies in other rheumatic diseases, including rheumatoid arthritis, systemic lupus erythematosus, and inflammatory myositis. In particular, she is a co-investigator on a large Canada Foundation for Innovation (CFI) funded study to develop a new integrated database and biospecimen tracking system for systemic autoimmune rheumatic diseases in order to support future cross-disease studies.

She is the recipient of the 2011 Canadian Rheumatology Association Young Investigator Award.
Recent Publications
Hudson M, Baron M, Lo E, Weinfeld J, Furst D, Khanna D. An international, web-based, prospective cohort study to determine if the use of ACE inhibitors prior to the onset of scleroderma renal crisis is associated with worse outcome – methodology and preliminary results. International J Rheumatol 2010; doi:10.1155/2010/347402.

Hudson M, Fritzler MJ, Baron M. Systemic sclerosis: Establishing diagnostic criteria. Medicine (Baltimore) 2010; 89(3): 159-65.

Hudson M, Thombs BD, Steele R, Panopalis P, Newton E, Baron M, Canadian Scleroderma Research Group. Health-related quality of life in Systemic Sclerosis: A systematic review. Arthritis Rheum 2009; 61(8): 1112-20.