Virtual meetings
The virtual meetings offered on the sclerodermie.ca website are intended for members residing in Quebec, as well as French speakers from other Canadian provinces. If you wish to participate in one of these meetings, you can request to receive the Zoom link that best suits your schedule, whether it's on a specific date, at a specific time, or at a regular frequency. You can also explore several of these groups to find the one that best suits your needs.

January 18, 2024
Next meeting: Thursday January 18th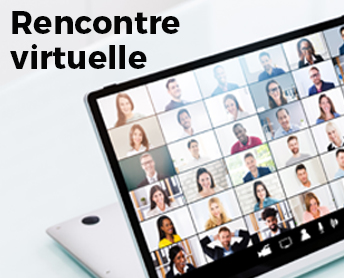 You are cordially invited to a Scleroderma Quebec support group meeting in English.
Our next meeting will be held on Zoom on Thursday January 18th at 2:30 in the afternoon.
We plan to organize monthly meetings which will be announced here on the Scleroderma Quebec website.
These meetings will be led by myself, Violet Konrad. I have had scleroderma for over ten years and have been leading support groups for almost as long.
In order to participate please contact Violet Konrad vkonrad@bell.net or 819 566-8391. (this is a landline)
I will send you the link to join the meeting by email two weeks before the meeting and a reminder closer to the date.
If you are unfamiliar with Zoom please contact me to do a practice before the day of the meeting.
Looking forward to meeting you,
Violet
Registration:
For more information please contact:
Violet Konrad
819 566-8391
Or by email vkonrad@bell.net
For new participants, please complete the registration form by clicking here (In french only).
After you have completed the form send it by email to info@sclerodermie.ca or mail it to:
Sclérodermie Québec
40-550 chemin Chambly
Longueuil QC J4H 3L8
Address:
This is a Zoom meeting.